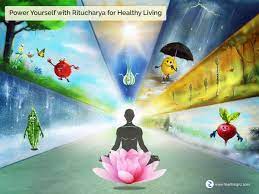 Ritucharya ('Ritu' meaning season and 'charya' implying discipline) is an old Ayurvedic practice that comprises way of life and Ayurvedic diet routine. It adapts to substantial and mental effects via seasonal changes as suggested by Ayurvedic experts in this field. With Ritucharya, one can improvise their physical strength and mental capability to cope with illnesses that happen due to changing seasons experienced in our life.
Seasons and Diet
According to Ayurveda, six seasons fall under two Kaals (time periods). Each Kaal gives three seasons and a total of 6 seasons in a year. The seasons and their characteristics are explained below:
Adaan Kaal/ Uttaryana (14 January to 14 July)
The sun and the wind are the strongest in this Kaal. The sun averts all the energy and strength from individuals and the cooling characteristics from the earth. The searing sun gives refreshing and dried characteristics to plants and people, thereby diminishing the strength among people.
Shishir Ritu: This season falls between Mid-January to Mid-March. The environment is chilly and windy during this time, making people weak and immune to Kapha Dosha and Agni (Catabolism). The diet plan should be consuming cereals and pulses, wheat/gram flour items and corn. Ginger and sugarcane items along with milk and dairy products should be added to the diet. 

Vasant Ritu: This season falls from Mid-March to Mid-May. This season is the period of new flowers and new leaves. The strength of a person remains average, and Kapha Dosha is drained out at this stage. A diet routine suggests the consumption of digestible food. Wheat and rice in cereals, lentils and Mugda in pulses can be eaten. Avoid cold, heavy food and including honey can be a good option.

Grishma Rithu: Mid-May to Mid-July belongs to this season. An intense hot climate and wind is the characteristic of this season. You should avoid taking spicy food and sour products. Further diet plans should consist of sweet and cool products. A reasonable consumption of water also helps in this process.
 
Visarga Kaal/Dakshinayana
Varsha Ritu: This season falls from Mid-July to Mid-September. This season is named Varsha Ritu as Varsha denotes rain that pours. The sky is cloudy with downpours and thunderstorms. The consumption of food should be strictly sour and salty items. Old Barley, rice, wheat are recommended to be consumed.

 Sharad Ritu: Mid-September to Mid-November of this season turns out to be a clear and bright sunny sky with clear and crisp clouds with wet mud on the surface. With medium health possessed by individuals, they should follow sweet and spicy intake and food with cold properties.

 Hemant Ritu: This season is between Mid-November to Mid-January. Cool breeze blows, and a chilly atmosphere is created during this period. This results in total strength and energy in an individual. The consumption of sweet and salty food is appreciated, while light, dry food and cold drinks are highly discouraged. Further, fats, milk items and sugarcane products help in this period.
One can easily manage their healthy lifestyle with the above reference of diet plans according to each climate and season. It is crucial to keep up with the rules of this process as suggested by Ayurveda and be in the pink of your health.